This week the IMMEDIAB Lab attended the 14th World Congres on Inflammation (WCI) at Sydney, Australia. The event ran from the 15th to the 19th of September at Darling Harbour's International Convention Centre. WCI 2019 was jam-packed with science at its best. With up to 4 plenary speakers per day, 4 parallel sessions of short talks, 2 poster sessions and flash talks for the young up-and-comers. Check out the events website here.
The organisers the organising committee represented Australia's finest in inflammation research, spanning expertise in senescence, miRNAs, TLR signalling, bacterial pathogens, arthritis, pain, macrophages, leukocyte trafficking, allergy, myeloid cell biology and many more. 
The Centenary Institute's Prof. Jennifer Gamble was convenor and the University of Queensland's Prof. Matt Sweet was co-convenor. Other organisation committee members were Prof. John Hamilton (who also received the IAIS Lifetime Achievement Award!), Prof. Michael Hickey, Prof. Eric Morand, Dr. Kate Schroder, Dr. Nicholas J Wilson and Prof. Phil Hansbro.
The line-up We were scientifically spoiled at WCI Sydney 2019. With too many sparkling plenary speakers to mention, IMMEDIAB's top 5  was a hard one to narrow down!…but we did our best anyway:
Michal Schwartz (Weizmann Institute of Science, Isreal); The potential of Immune checkpoint blockade for fighting against Alzheimer's disease
Vera Gorbunova (Rochester Aging Research Centre, USA); Activation of LINE1 transposons – new trigger of age-related inflammation
Ana Domingos (Oxford University, UK); Sympathetic neuroimmunity in obesity
Luke O'Neill (Trinity College Dublin); Immunometabolism and NLRP3 as targets for novel anti-inflammatory therapeutics 
Florent Ginhoux (SIgN/A*STAR, Singapore); Macrophage and dendritic cell biology: from development to functions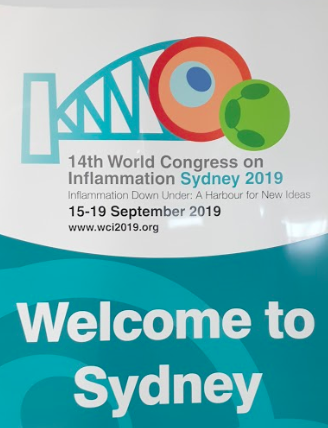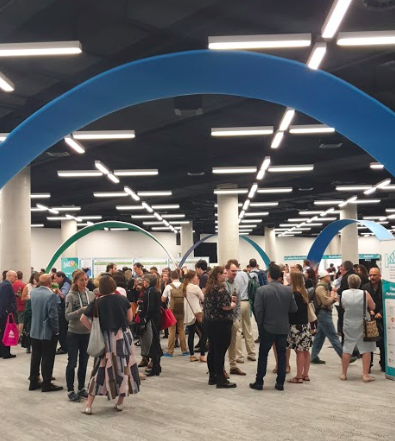 On top of your run-of-the-mill plenaries, we had some special mentions! The IAIS Lifetime Achievement Award was presented to Prof. John Hamilton (University of Melbourne) for his groundbreaking work on macrophage differentiation and metabolism, cytokine signalling and inflammation in arthritis. The IAIS Women in Science award was given to Catherine Godson (University College Dublin, Ireland) for her work on the mechanisms of resolution of inflammation, she accepted her awarded with an insightful and knowledgable talk entitled Resolution: A Better Solution. Catherine Godson's humility and wit was as remarkable as her scientific impact! 
We also made the acquaintance of Journal Editors and New Investigators in the field in respective dedicated sessions. Notably editors Lucy Bird (Nature Reviews Immunology), James Harris (Immunology and Cell Biology), Alan Landay (Journal of Leukocyte Biology), Justine Mintern (Immunology and Cell Biology), Peter Lee (Immunity), Gaia Trincucci (Journal of Experimental Medicine) and Lisa Ng (Clinical and Translational Immunology) had all imparted their wisdom! The New Investigators session put the spotlight on up-and-comers in inflammation research: Amanda Sparkes (Sunnybrook Research Institute, Canada), Anukriti Mathur (Australian National University, Australia), Matae Ahn (Duke-NUS Medical School, Singapore) and Gokhan Cildir (Centre for Cancer Biology, Australia).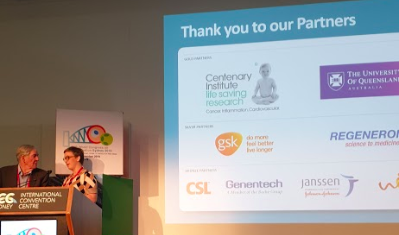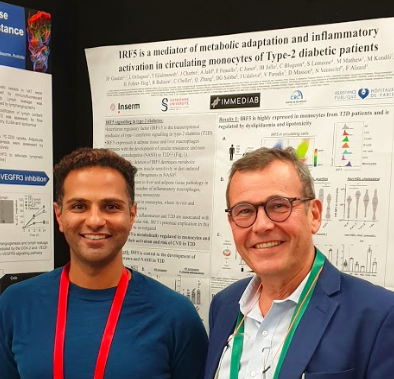 With all these fantastic plenary sessions, the WCI Sydney 2019 came to head with a Centenary Institute Public Lecture by the BBC's Michael Mosley! Michael Mosley gave a talk open to the general public entitled Inflammation: A New Approach to Obesity and Depression. 
The students Over the conference week, students were indeed spoiled, but they did also have to do some of the work! Students gave three types of presentations: short talks, flash talks and poster presentations. Twenty-one themed sessions covered multiple inflammatory pathologies and mechanisms of inflammation, including: Immune tolerance, infectious disease, organ-specific inflammation, vascular biology, neuro-immunity, emmerging therapeutics, clinical trials, epigenetics & gene regulation, metabolism & microbiota, biomarkers, mucosal inflammation and many more!
Yours truly had two selected abstracts! As a poster and as a flash talk in metabolism & microbiota, we were certainly well-represented at this year's event!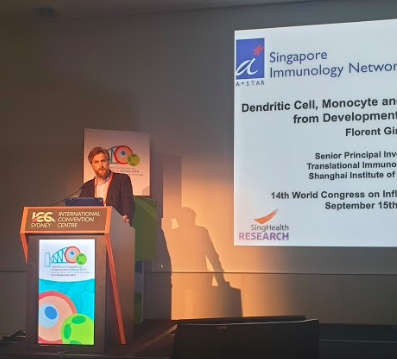 The fun This event was chock full of opportunities for us all to socialise! Starting off with a welcoming drinks reception on-site through to a student function (which we managed to sneak into!) at The Pumphouse local pub and the Conference Dinner with a full on dancefloor and live music with local Sydney Band Big Bad Wolf!
The sponsors Event sponsors were ever so plentiful, and deservingly so, this event was fantastic. The WCI Sydney 2019 was sponsored by The Centenary Institute, The University of Queensland, GSK, Regeneron, CSL, Janssen, The Westmead Institute, NSW Government, AID Research Centre, Bupa, Abbvie, Leica, The Hudson Institute of Medical Research and many more, click here for more information on the generous sponsors of WCI Sydney 2019.